Parking lots are among the most underrated safety risks for pedestrians and automobiles. Every time a vehicle must share space with pedestrians, extra safety measures are required.
Here are some car park accessories that Sterling Supplies offers that can improve the safety of your parking lot while keeping your car/bike safe!
Our selection of car park safety products includes:
A professional installation staff is dedicated to providing a complete and up-to-date variety of line marking and stenciling services. We have the expertise and experience to provide road line marking solutions, as well as access to a wide choice of paints to fit a variety of substrates.
For locations requiring pedestrian and asset protection while fulfilling business requirements. Our surface-mounted bollard is available in 316 stainless steel or yellow powder coated finish. It also has a base plate for simple attachment to the substrate surface. Our mounted bollard is ideal for areas near salt water and has four fixing holes.
In vehicle parks, using In-ground bollards is critical for blocking entrances, reducing crashes, and ensuring pedestrian safety. This bollard is durable and attractive and is put 300mm below ground for added strength (900mm high bollard when installed). It has a loose top cap to fill with concrete for further strength. It comes in either 316 stainless steel or a yellow powder-coated finish. When installed in core drilled situations, the anchor rod at the base is deployed in wet concrete and can be retracted.
Our wheel stops have been designed to protect motorists and pedestrians while preventing vehicle damage caused by concrete curbs. It is made of recycled solid rubber material and is robust, resilient, and rugged, with fixings for both concrete and asphalt. Our black rubber with yellow reflective panels comes with 3 hole fixings on both sides. It is ideal for all applications such as shopping mall parking lots, apartments, airports, and all public parking lots.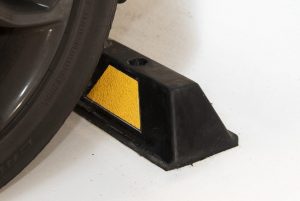 A natural rubber corner guard with yellow reflective stripes is ideal for preventing vehicle scrapes on columns and building corners when driving tight spots. It is simple to affix with glue and is also available in galvanized steel in customizable sizes.
It is ideal for both external and inside use, and it adds security by allowing the bike frame and wheel to be attached at multiple spots. It can be deployed as a single unit or in clusters to hold bikes in various configurations. A bike can be accommodated on each side. It comes in both 304 stainless steel and galvanized steel.
A wall-mounted bike rack is one of the best solutions for keeping several bikes in a small space. It is adaptable enough to be used indoors and outside and can be mounted at different heights to prevent handlebar overlap. It can be finished with either a powder-coated or galvanized steel feel.
A convex mirror offers convenience and safety to give all viewers the exact object placement regardless of their position. The mirrors have been tested to offer distortion-free viewing and come with the necessary wall mounting hardware. Indoor convex mirror with a high-visibility orange edge aids in blind spot regions. It is appropriate for many pedestrian and traffic applications, including loading docks, low visibility crossroads, roadways, retail spaces and parking spots.
Our height restriction bars (available in different lengths) are made of galvanized steel that has been powder coated yellow. It includes hanging points attached to the bar, a heavy, durable metal chain and a customizable clearance height sign.
Our speed humps are available in black and safety yellow with reflectors, making them visible to cars during the day and at night. It keeps vehicles from cutting corners and protects fences and barriers. The robust rubber also prevents vehicles from destroying the pavement.
These products are created on-site and can be delivered to meet various specifications and needs.
There is an accessory to meet every demand, with all goods manufactured per Australia standards and custom designs and specifications available.
Click here to view our range of car parking accessories.
For a detailed assessment and consultation, fill in our contact form & we will get in touch with you.